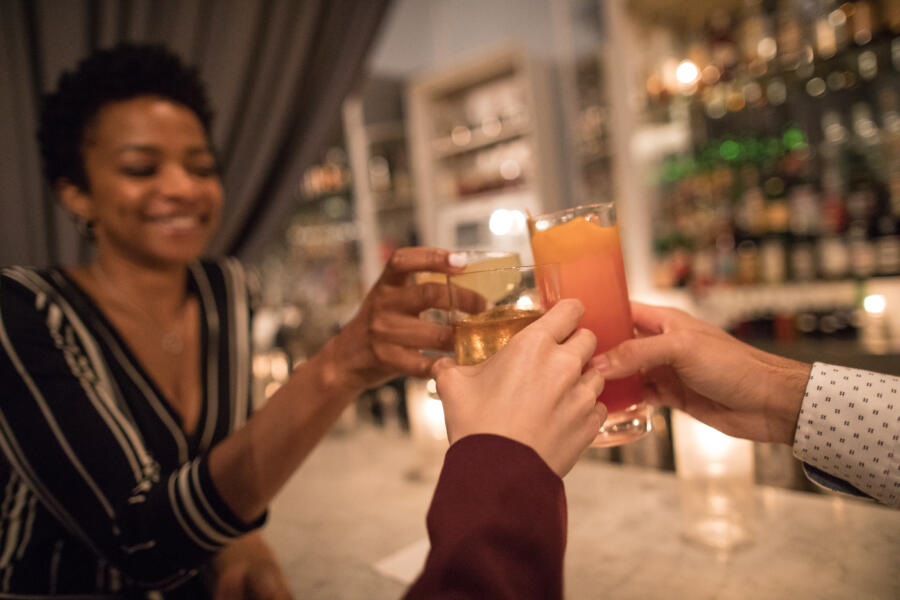 Say goodbye to 2022 and ring in the new year in true Chicago style — with an unforgettable meal. Here are just a few top picks for a spectacular New Year's Eve dinner in Chicago, complete with champagne toasts, tasting menus, and special celebrations. And check out our full New Year's Eve guide for more ideas to complete your only-in Chicago celebration with fireworks, live concerts, exciting events, and more.
Restaurants open for New Year's Eve in Chicago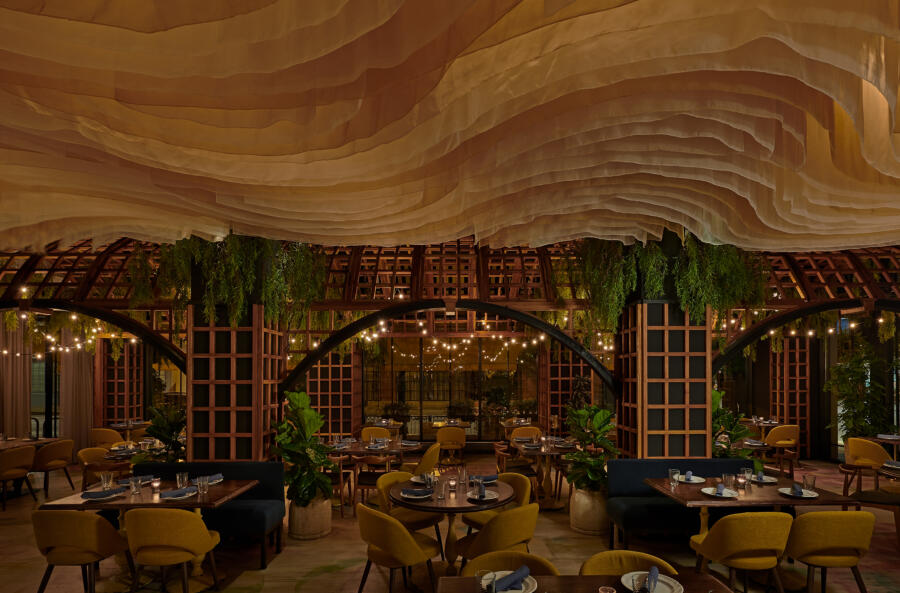 Alla Vita: One of Chicago's hottest restaurants is offering a family-style, four-course dinner that highlights guest favorites from the modern Italian menu.
Rose Mary: Ring in the new year with a family-style banquet comprising four courses of modern European fare. Lively and warm, this hip neighborhood restaurant and cocktail bar is located in historic Fulton Market. 
NoMI: Take in sweeping views of Lake Michigan and the iconic Water Tower at this fine-dining establishment on The Magnificent Mile. Enjoy live entertainment and a luxurious five-course dinner, with menu highlights including king crab and filet mignon. 
Temporis: Indulge in truffles, caviar, and farm-to-table ingredients with a special NYE tasting menu. Awarded a Michelin star four years in a row, this contemporary American dining room in West Town boasts an in-house hydroponic garden. 
Next: This Michelin-starred spot is hosting a New Year's Eve dinner to remember, celebrating global coastal cuisine and fresh seafood. Patrons of this Fulton Market gem can also look forward to a champagne toast at midnight. 
Avli on the Park: Step into the chic, breezy ambiance of Avli on the Park for refined Greek cuisine. The special five-course New Year's Eve menu features two seatings with mainstays like chicken souvlaki and moussaka.
Andies Restaurant: Savor the welcoming ambiance of this beloved Andersonville bistro serving up Mediterranean comfort food like lamb couscous, chicken breast kabob, and spinach and feta pie. Golden walls and a fireplace make this a cozy pick.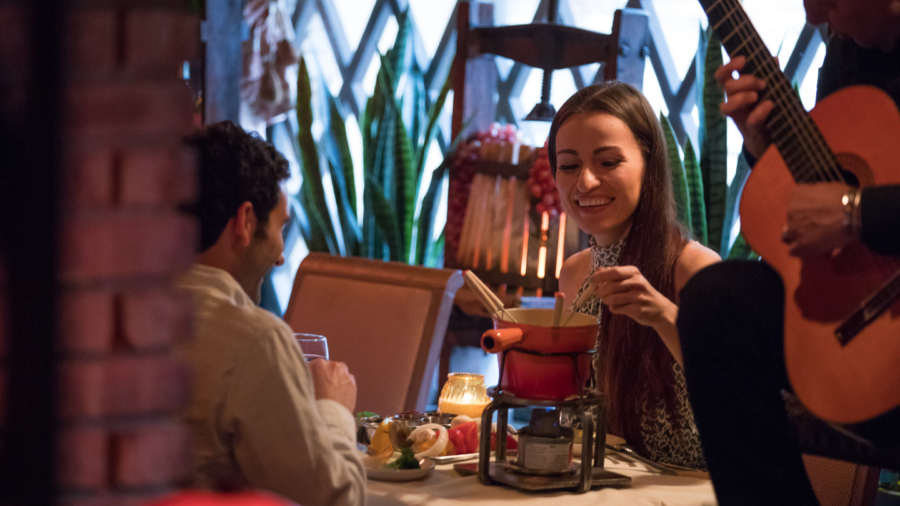 Geja's Cafe: If you're looking for a romantic evening, Geja's is the place to be. Their New Year's Eve package includes champagne, chocolate for dipping, plus a decadent three-course fondue dinner.
Sepia: Opt for elegant fine dining with Sepia's special new year's menus. Choose from early seating with four courses or late seating with six courses. Dishes include beef tartare, truffle fried chicken, and grilled sablefish.
Nico Osteria: Enjoy chic Italian dining at this Gold Coast fave. A special five-course New Year's Eve tasting menu includes steak, seafood, and handmade pasta. An after-party features a DJ, violinist, and balloon drop.
Mordecai: This hot spot mixes the high energy of neighboring Wrigley Field with low-key sophistication in a charming two-level space. The special New Year's Eve prix fixe dinner includes oysters Rockefeller, braised oxtail, and Maine lobster.
The Press Room: This intimate West Loop spot is serving a five-course NYE meal, with dishes like Beef Bourguignon and scallop crudo, to celebrate its fifth anniversary.
Mott Street: Feast on Asian American delicacies in the trendy atmosphere of this Noble Square outpost. The New Year's Eve offering includes pork imperial rolls, king crab rice, and the famous Mott burger.
St. Clair Supper Club: Celebrate with a hearty four-course feast in the West Loop. Known for its signature prime rib, this Wisconsin-style supper club from the Alinea Group will offer a midnight champagne toast. 
Aji: Taste your way through an inspired 16-course omakase at this intimate Lakeview sushi bar. Pair your meal with creative cocktails like a lychee martini or an old fashioned made with Japanese whisky.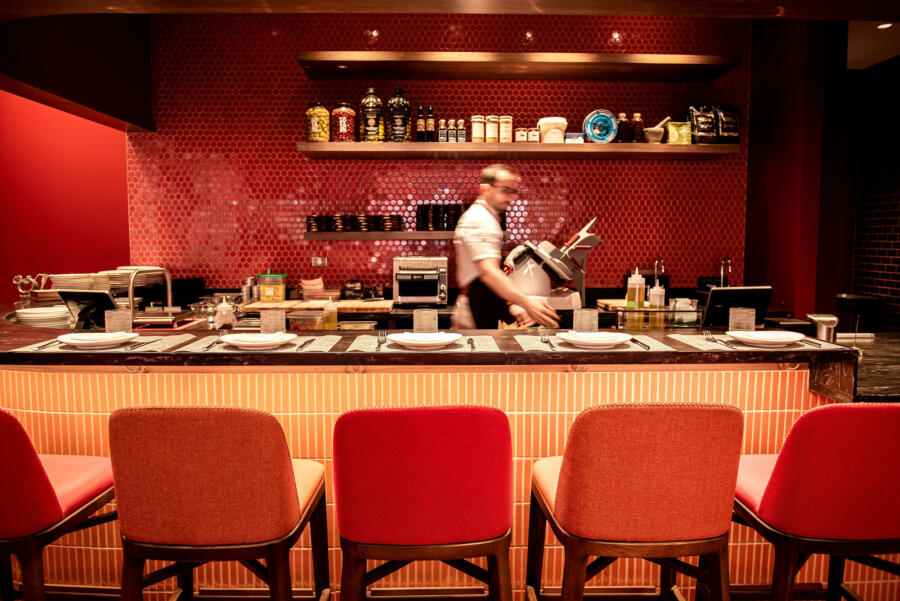 Jaleo: This spirited and warm restaurant brings the dishes of Spain to Chicago with stylish detail. Dine on authentic paella or octopus poached with potatoes and olive oil or choose one of three tasting menus to celebrate New Year's Eve with Spanish flair.
Hinoki Sushiko: Indulge in the detailed omakase menu at this Japanese gem. For New Year's Eve, the restaurant is presenting a New Year's Eve whiskey dinner with Japanese whiskey pairings. Menu items include Wagyu meatballs, eggplant salad, and cold smoked salmon.
Dear Margaret: Quaint decor supplies the perfect backdrop for hearty French Canadian cuisine at Dear Margaret. The restaurant is offering an a la carte New Year's Eve menu with dishes like duck leg cassoulet and pan-roasted wild striped bass. 
Sinha Elegant Cuisine: Ring in the new year with the exuberant spirit of Brazilian culture at Sinha Elegant Cuisine. Absorb the music and traditions of Brazil during a New Year's Eve brunch which will feature acaraje, the black-eyed pea fritter that's eaten for luck in the new year.
Kostali by NAHA: Bring in the new year with bubbles, a bespoke prix-fixe dinner of coastal Mediterranean dishes, and disco dancing at this upscale spot tucked into the Gwen Hotel. 
Macello: Taste the rich flavors of Puglia, Italy at the colorful and cozy Macello. Celebrate the new year with traditional foods like pork that symbolizes abundance for the new year. Or choose from the menu of handmade pasta.
5 Rabanitos: Enter this cheery Pilsen eatery for a New Year's Eve filled with joy and Mexican delicacies. Sample Yucatan-style fish marinated in achiote, slow-roasted pork with mole sauce or barbecued goat. 
North Pond: Dine on farm-to-table dishes at one of the most dazzling settings in the city. Located on the edge of a pond overlooking the skyline, North Pond serves unforgettable views and food. The New Year's Eve dinner features a seven-course tasting menu of seasonal fare like scallops with beets and monkfish with sweet potato fondant.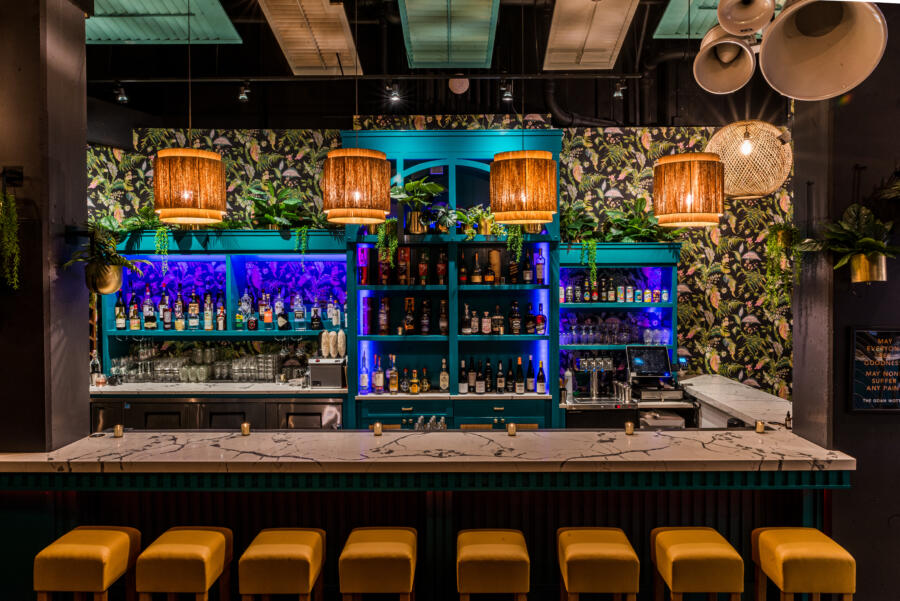 Bar Goa: This stylish gastro pub transports guests to the southwest coast of India with a flavor-packed menu of Indian and Portuguese fusion dishes. Prepare to dance into the new year with a live DJ spinning on the restaurant's state of art sound system.
Big Jones: Welcome the new year with the Southern hospitality of Big Jones. This buzzy Andersonville restaurant supplies classics like shrimp and grits, crawfish etouffee, and chicken and dumplings with casual elegance.
Kizin Creole Restaurant: Head to this Rogers Park gem to bring in the new year and enjoy the rich flavors of the only Haitian restaurant in the city. This casual diner serves up heaping portions of traditional dishes like griyo (fried pork), legim (vegetable stew), and spicy braised oxtails.
Norman's Bistro: For a classy and spicy NYE dinner, visit this North Kenwood hallmark that serves up creole classics like jambalaya, gumbo, and blackened catfish. A live DJ will play jazz and classic R&B for a festive mood.
BLVD Steakhouse: Indulge in an elaborate multi-course meal at this upscale West Loop restaurant with fresh seafood, prime cuts, and luxe upgrades.
Rose Mary: New Year's Eve dinner is a four-course feast of Croatian and Italian cuisine at Rose Mary, with dishes like grilled oysters and truffle risotto.
Smyth: Welcome 2023 in style with this luxurious tasting menu from West Loop fine dining spot Smyth, recipient of two Michelin stars.
Brass Heart: This modern fine dining establishment in Uptown showcases the finest ingredients in the Midwest with their chef's tasting menu.
Virtue: Taste the award-winning cuisine of this popular Hyde Park restaurant that showcases the very best of Southern American cooking.
Artango: Bring in the new year the Argentinean way with music and a special menu at this dazzling Lincoln Square destination, featuring a live flamenco show from 8 – 10:30 p.m.
Proxi: Go global for your New Year's festivities with this West Loop hot spot's continent-skipping menu. For New Year's Eve, all wine pairing options will feature women-owned wine labels.
Le Sud: Toast to the New Year at this charming French-Mediterranean spot in Roscoe Village in their cozy dining room or on their enclosed patio.