J.Jill is renowned for stylish, timeless classics – the kind of clothes that aren't trying too hard to be trendy, but are in style year after year. Plus, because J.Jill outfits are created with women over 40 in mind, there are plenty of flattering options. Let's take a look at the best J.Jill clothing, shoes and accessories you could choose to put together countless outfits.
Why you may consider J. Jill clothing for your next purchase
With an aim of creating versatile styles to meet every moment of its customer lives, J.Jill aims to put together easy, thoughtful and inspired style for confident, remarkable women. Below are just some of the reasons we love J.Jill.
1. J.Jill clothing is specifically designed for women over 40
While it's fantastic to shop in a variety of stores to put together stylish outfits that no-one else will have, in some stores that's a challenge because they're designed with a younger demographic in mind (think low-slung jeans and crop tops). However, with J.Jill, you know that every item is designed with you in mind.
2. The focus is on timeless classics that won't date
Adding new trends to your closet can instantly update existing outfits. But, you don't want everything in your wardrobe to look dated within weeks. J.Jill designed timeless classics that will form your capsule closet and wardrobe essentials for years to come.
3. J.Jill is constantly striving to better understand what women over 40 want
The best stores keep up-to-date with the needs of their customers. Through research with thousands of existing and prospective shoppers, J.Jill says it is focused on thoughtful designs that reflect each woman's invidivuality and desire to have an impace and joy in life.
4. J.Jill clothing is offered in lots of sizes
There's nothing worse than finding something you love in a store, only to realize it doesn't come in your size. Thankfully, J.Jill has petite, tall and plus size choices.
Your J.Jill clothing capsule
Now, let's move onto some specific choices.
J.Jill tops
J.Jill is fantastic for finding classic shirts as well as draped, longer tunic styles that you could wear with your leggings.
Cotton-Stretch Oversized Tunic – Pure Jill Hand-Stitched Kantha Kimono Top – Satin Smocked A-Line Top – Wearever Scoop-Neck Tunic
J.Jill sweaters
Everyone needs cozy sweaters when the wather is cooler. Look out for classic v-necks that you can layer over your shirt, as well as longer styles and open cardigans.
Cashmere Relaxed Tunic Sweater – Mixed-Media V-Neck Tunic Sweater – Horizontal Cables Mock-Neck Sweater – Patch-Pocket Cardi
J.Jill clothing – jackets and COATS
You'll find a good choice of all jacket styles at J.Jill. Choose a blazer to dress up your outfits, a denim jacket to dress for casual days, a shacket you can layer over your t-shirts, and longer coat styles for cooler weather.
Sedona Plaid Blazer – Stretch Velveteen Jean Jacket – Pure Jill Textured-Paisley Sweater Coat – Water-Repellent Washable Down Puffer Coat
J.Jill jeans and pants
Well fitting pants and jeans are the basis for any wardrobe. A classic pair of bootcut jeans can be dressed up or down, leggings are perfect for layering under tunics or dresses, you can add an edge to your outfits with leather-look pants, and a pair of trousers will be perfect for work or evenings out.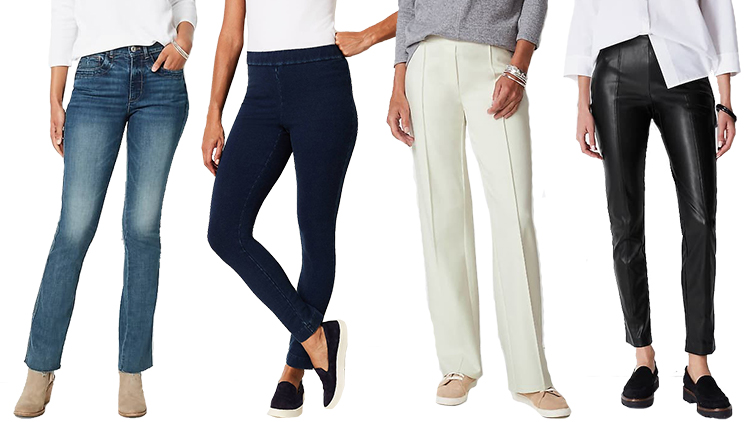 High-Rise Boot-Cut Jeans – Pure Jill Indigo Knit Jeggings – Wearever Double-Face Jersey Straight-Leg Pants – Vegan-Leather Slim-Leg Pants
J.Jill dresses
No matter what the season, there are a good range of dresses at J.Jill for casual days or evening. You can dress black dresses up or down, or add a sweater to your dresses when the weather is cooler.
Wearever Double-V-Neck Back-Pleat Dress – Soft-Cord Shirtdress – Pure Jill Easy A-Line Maxi Dress – Versatile Two-Piece Dress
J.Jill shoes
Of course, any outfit needs a stylish pair of shoes. Ballet flats, loafers, sneakers and knee-high riding boots will be on trend season after season, year after year.

Born® Brin Ballet Flats – Sofft® Napoli Loafer – Tessa Lightweight Sneakers – Sofft® Sharnell II Tall Boots
J.Jill accessories
Finish off your outfits with classic accessories. Tote bags and crossbodies will be ideal for your day-to-day essentials, add statement jewelry for dressier days, and scarves to your casual outfits.
Pure Jill Washed-Leather Hobo Bag – Tasseled Leather Camera Bag – Golden Hour Layered Necklace – 20th Anniversary Compassion Fund Sterling Necklace – Peaceful Plains Semiprecious Statement Earrings – Modern Metals Elongated Hoops – Modern Soft Plaid Scarf – Pure Jill Embellished Velvet Infinity Scarf
Continue reading:
Like this article on J.Jill clothing? Share it on Pinterest!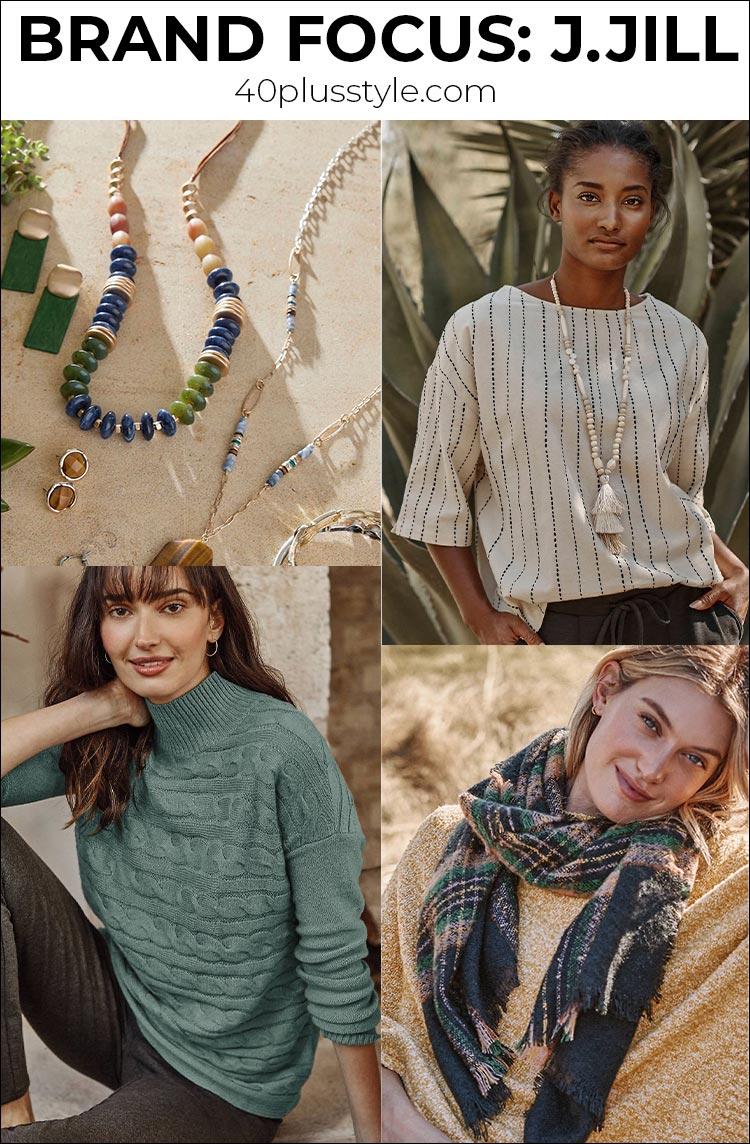 The post brand focus: The best j.jill clothing to put together the perfect capsule this season appeared first on 40+ Style.