Winter can be one of the most challenging seasons to consistently wear winter outfits for women that are both weather appropriate and figure flattering, but the tips on how to look fashionable in winter will help.
When the primary motivation is keeping warm while facing dreary days, the temptation is there to simply throw on as many pieces as possible and get out the door. But, putting together chic winter looks doesn't have to be a challenge.
Simple planning can actually keep you both warm and stylish through the winter months without having to sacrifice function or aesthetically pleasing looks.
In today's post, I go over 13 easy tips that can turn around a less-than inspiring-wardrobe into one that excites you about getting out of your warm bed and braving cooler temperatures.
13 ways to stay chic with the best winter outfits for women this winter
1. Start with the basics – thermals
It may sound obvious, but when thinking about the best winter outfits for women, if you opt for a thin thermal layer underneath your outfit, you can then often get away with wearing what you usually would without worrying about being cold.
Below are some more thin thermal tops you could wear. Also check out the best thermal underwear to wear under everything when the temperature dips.
Reviewers of the base layer thermals (below) say they are good quality, well made and comfortable to wear.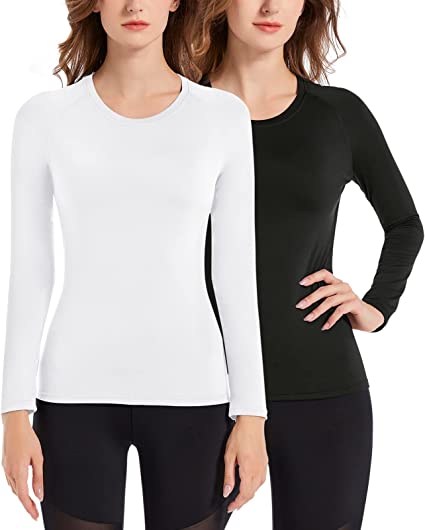 Mrignt Base Layer Thermal Tops 2 Pack
If you want to stay extra warm, you may also want to wear thermal leggings under your outfit, so a thermal set would be perfect. The fleece set (below) comes in a good choice of colors, and wearers say it is soft and warm.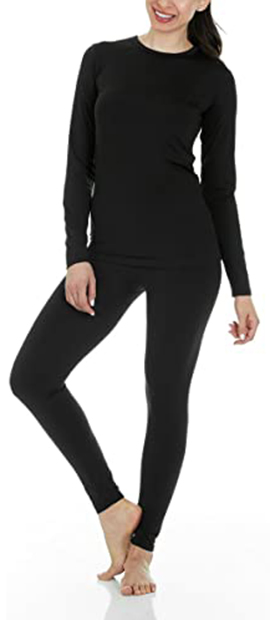 Thermajane Fleece Lined Thermal Set
Julie @stylishparadox above (read her style interview here) stays cozy in a red puffer jacket. Notice how, as the jacket adds volume, she has kept the rest of her outfit streamlined to add balance.
Get her look with this similar thermal top, jacket, jeans, boots, bag and beanie.
2. Layer, layer, layer for winter style points
Style tip: Purposeful layering is the perfect way to achieve warmth while putting together a chic look.
Layering allows you to play with a mixture of patterns or textures, while being functional enough to support all the varying temperatures you encounter on a winter day (from frigid cold outside to overheated offices and cars).
The key is to get thinner pieces that offer maximum warmth (such as cashmere), layer on scarves to pull the looks together, and play with varying lengths to flatter your body shape.
An easy way to layer is to wear a poncho or wrap over your sweater.
MELIFLUOS DESIGNED IN SPAIN Wrap Ruana – AUHEGN Turtleneck Top – KUT from the Kloth Donna Fab Ab Coated High Waist Ankle Skinny Jeans – Dolce Vita Hawk H20 Waterproof Chelsea Boot – Aimee Kestenberg All For Love Convertible Leather Shoulder Bag – Martha Calvo Tubular Hoop Earrings
Or, you can play around with the length of your layers and wear a shorter jacket over a longer top.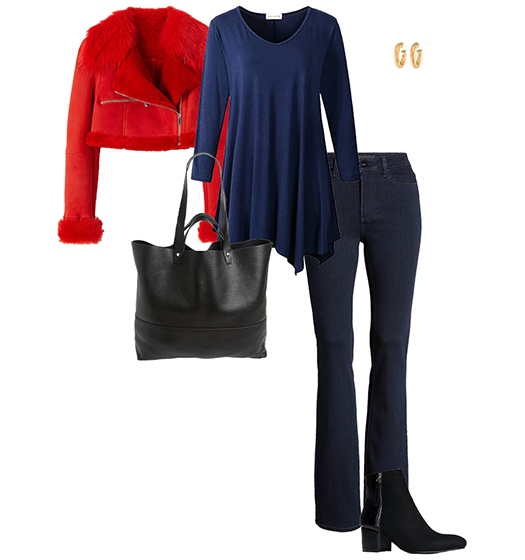 Karen Millen Shearling & Leather Cropped Moto Jacket – LARACE Tunic Top – PAIGE Manhattan High Waist Bootcut Jeans – rag & bone Logan Leather Tote – J. Adams Zuma Ankle Bootie – Martha Calvo Tubular Hoop Earrings
3. Winter wear for women: Take a walk on the wild side
Style tip: For the winter months, (faux) fur is one of those sartorial no-brainers when it comes to keeping warm.
Faux fur or Shearling, when worn tastefully, can immediately elevate your look.
Consider substituting a peacoat or jacket for a fur coat when putting together your winter outfits for women. The change in texture creates a high end look that keeps you warm and au courant. Look out for coats and jackets that are completely faux fur, or with a faux fur collar.
BLANKNYC Shawl Collar Faux Fur Crop Jacket – Bellivera Suede Moto Jacket – Bellivera Fleece Jacket – Karen Millen Italian Wool Cashmere Mix Faux Fur Collared Belted Coat
Nikki @40notfrumpy above shows how you could add some animal print to your winter look.
Recreate her outfit with this similar leopard coat, pants, boots and beanie.
4. Go over the knee to create stylish winter outfits
Style tip: Many women (especially those over 40) shy away from over-the-knee boots.
And this is definitely the perfect strategy if you happen to come across a six-inch patent leather pair that you might have been inspired by on the runway, but stick in the back of your closet when it comes time to wear them.
Instead, I recommend opting for a flat or low-heeled boot in shades and materials you feel comfortable wearing.
Get a chic and trendy look by either wearing the pair with matching pants (black-on-black, tan-on-tan, etc.), or making a skirt or dress more weather appropriate by pairing a longer shaft boot to cover more leg.
Vepose Suede Over The Knee Boots – Steve Madden Georgette Boot – Kenneth Cole REACTION Wind-y Boot – N.N.G Suede Over The Knee Boots
5. latest boot trends
Sometimes just switching your shoes or your accessories can make a big difference to your existing outfits. Look out for the latest boot trends, and add an off-the-moment style to your wardrobe for an instant update. Styles to look out for this season include chunky soles, white or cream boots, and bright colors.
Take a look at these Fall winter 2022 boot trends for more inspiration.
Dolce Vita Hawk H20 Waterproof Chelsea Boot – Marc Fisher LTD Jarli Bootie – Clarks Violet Zip Bootie – Vagabond Shoemakers Ansie Bootie
Jamie @moreturquoise (read her style interview here) above wears a pair of stylish, pointed toe booties in her black and brown outfit.
Steal her look with this similar shirt, sweater, pants, booties, belt bag and sunglasses.
6. Winter attire: wear white to create classy winter outfits
Style tip: Most people will shy away from white during the winter months (especially those who ascribe to the post-Labor Day rule).
Much like the statement coats above, white jackets and coats can actually brighten a look and still feel winter appropriate.
Combinations of cream are incredibly popular here in Italy (where I'm now) and looks very sophisticated.
If that style is too monochrome for you, pair your white or cream pieces with darker prints or dark solids for a contrast that is still lively. If white is too pristine for you for winter, you could always opt for cream.
Karen Millen Lydia Millen Petite Italian Wool Faux Fur Collar Longline Coat – ZLYC Fine Knit Open Front Faux Fur Trim Cape – Vepose Chelsea Boot – NEOSAN Ribbed Knit Infinity Scarf – isotoner Cable Knit Gloves – PAGE ONE Chunky Ribbed Beanie – Lisianthus Wide Brim Fedora Hat
Nikki @midlifechic above wears a long white coat. she adds pops of color with her bag and scarf.
She is wearing a coat, pair of jeans, scarf and handbag from John Lewis & Partners. Here is a similar pair of boots and earrings to complete the look.
7. Latest sweater styles
It's likely you'll want to add at least one new sweater to your closet when the weather turns cooler. So, it makes sense to choose something on-trend in order to update your casual outfits. Look out for asymmetrical details, bright shades and fluffy textures.
Nordstrom Mock Neck Rib Trim Sweater – Ted Baker London Joilla Funnel Neck Mixed Stitch Sweater – Ted Baker London Wool Blend Envelope Neck Slouchy Knit Sweater – Halogen Fuzzy Deep V-Neck Cardigan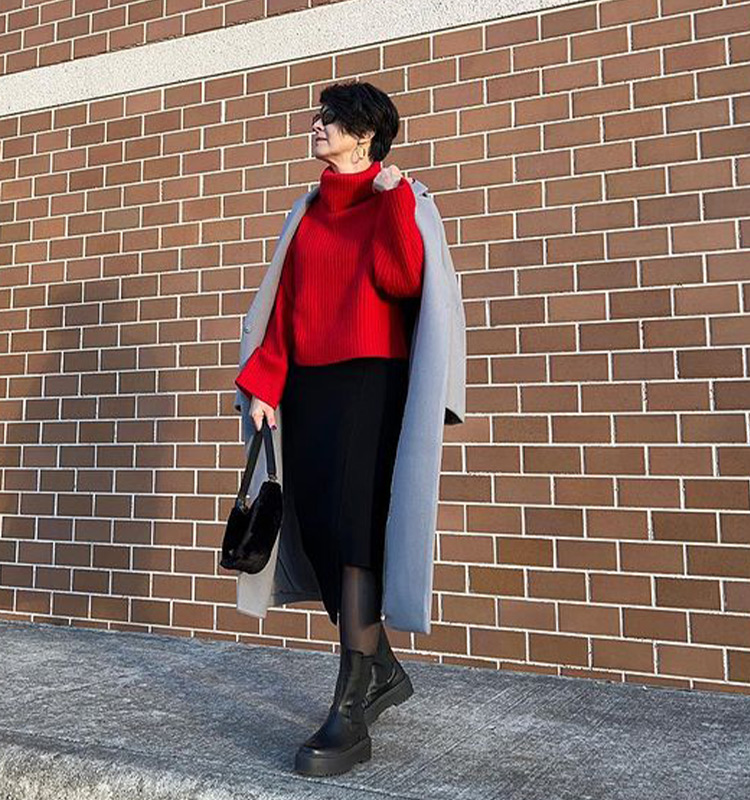 Natalia @odin.stylish.me above adds on trend, a chunky turtleneck sweater and platform boots, and wears her coat over her shoulders.
Check out this similar sweater, coat, skirt, boots, tights, handbag, earrings and sunglasses.
8. Winter outfits for women: Put a cape (or poncho) on it
Style tip: Capes or ponchos are always the perfect choice when you want a dramatic and chic piece that requires very minimal effort.
From jeans to leggings to dresses, a cape is a nice way of pulling a look together while still keeping you warm.
Opt for prints for more unique looks that are a departure from your classic cape styles.
As usual, pay attention to proportions when styling your cape. For many body shapes, keeping the bottom leaner and less bulky is key to pulling of this look.
Karen Millen Italian Virgin Wool Cape Sleeve Short Coat – PULI Cross Front Poncho – Moss Rose Wrap Ruana – Lacavocor Open Front Poncho
9. Winter Looks For Women – make a statement
Style tip: If you're willing to make a statement with shoes, bags, and necklaces, a great next step is to make a statement with a coat.
Don't give in to the temptation to mimic less-than-sunny days by going with dark coats and jackets.
Skip the gray and black and opt for a statement coat in either a bright hue or a bold print.
Sam Edelman Belted Wool Blend Coat – Karen Millen Italian Virgin Wool Color Block Strong Shoulder Anti Fit Coat – Boden Belted Textured Wool Maxi Coat – GRACE KARIN Notch Lapel Belted Pea Coat
Melissa @melissabultburns above shows how you can brighten up your monochrone outfit with a shocking pink coat.
Steal her look with this similar striped dress, coat, jeans, boots, handbag and beret.
For more tips take a look at this article on how to choose a winter coat.
10. Trendy winter outfits: All you need are gloves
Style tip: Long gloves are the perfect opportunity for you to wear shorter sleeve coats and jackets while shorter styles will look fabulous for everyday.
Don't feel confined to wearing only black pairs, opt for some color that will not simply blend in but bring a life of their own to your look.
MGGM Collection Nappa Lambskin Leather Gloves – C.C Cable Knit Anti-Slip Touchscreen Gloves – YISEVEN Sheepskin Shearling Leather Gloves – isotoner Fleece Gloves
11. Winter trends: The statement scarf
Style tip: Scarves are a winter must have and offer an opportunity to add color to a dark look.
Statement scarves can either be oversized or regular sized pieces, but they usually have a variety of textures and/or offer bright prints and colors.
If you notice that you have a very dark and/or plain look that needs a little more life to it, consider a statement scarf to create a higher impact look.
Cindy & Wendy Large Pashmina Scarf – La Fiorentina Faux Fur Poms Trim Wrap – Burberry Check Cashmere Scarf – Ganni Mohair Blend Gradient Fringed Scarf
Barb @barb_styling above chooses a leopart print scarf with her cold weather outfit.
Recreate her outfit with this similar coat, pants, booties, scarf, gloves, handbag and fedora.
Take a look at this article for more tips on how to style a scarf.
12. Stylish winter outfits: Keep your head warm
Style tip: During winter, quite a bit of your body's heat can be lost by not protecting your head.
So, a hat is absolutely essential when the temperatures get really low.
Think of this as an opportunity to invest in a hat you know you will want to wear and that flatters both your look and face shape. And if you need tips on wearing them, check out our tips on how to wear a hat.
A great option for very cold weather is a quality faux fur trapper that you can keep for years. It will always be on trend for the winter and will most certainly keep you warm.
Another chic option is a wool wide brim hat. It keeps your face free, while the wool hat keeps your head warm.
Lisianthus Belt Buckle Fedora Hat – The North Face Oh Mega Faux Fur Pom Beanie – btb Los Angeles Houndstooth Conductor Hat – ZLYC Reversible Beret
Take a look at how to choose a hat to suit your face shape.
13. Winter fashion ideas: Drape and belt
Style tip: Create dramatic shapes and flow by opting for a draped cardigan or wrap.
The additional material is a great option for keeping you warm and allowing you to feel like you are wrapped in a toasty blanket.
However, to keep it closed, either opt for a belted cardigan or select a coordinating or contrasting belt.
Pair the heavier, draped top with leggings, slim-leg pants, or a sweater dress to create a more flattering silhouette that is not too bulky on the top and bottom.
ANRABESS Open Front Long Cardigan – Vince Slim Silk Blouse – PAIGE Manhattan High Waist Bootcut Jeans – Tory Burch Miller Mixed Materials Lug Sole Boot – rag & bone Logan Leather Tote – Tory Burch Miller Reversible Logo Belt – Martha Calvo Tubular Hoop Earrings
The poncho below comes with a belt meaning the look is ready made for you. Just add skinny jeans, a turtleneck and boots. Reviewers say it is smart looking and versatile.
Also take a look at how to wear a belt.
Your fashionable winter outfits together in one capsule
Below, you can see all of the outfits from above together in one capsule, which should give you plenty of inspiration if you are thinking about how to look fashionable in winter. You can see that all of the colors in the capsule below go together so you can easily mix and match to create more outfits.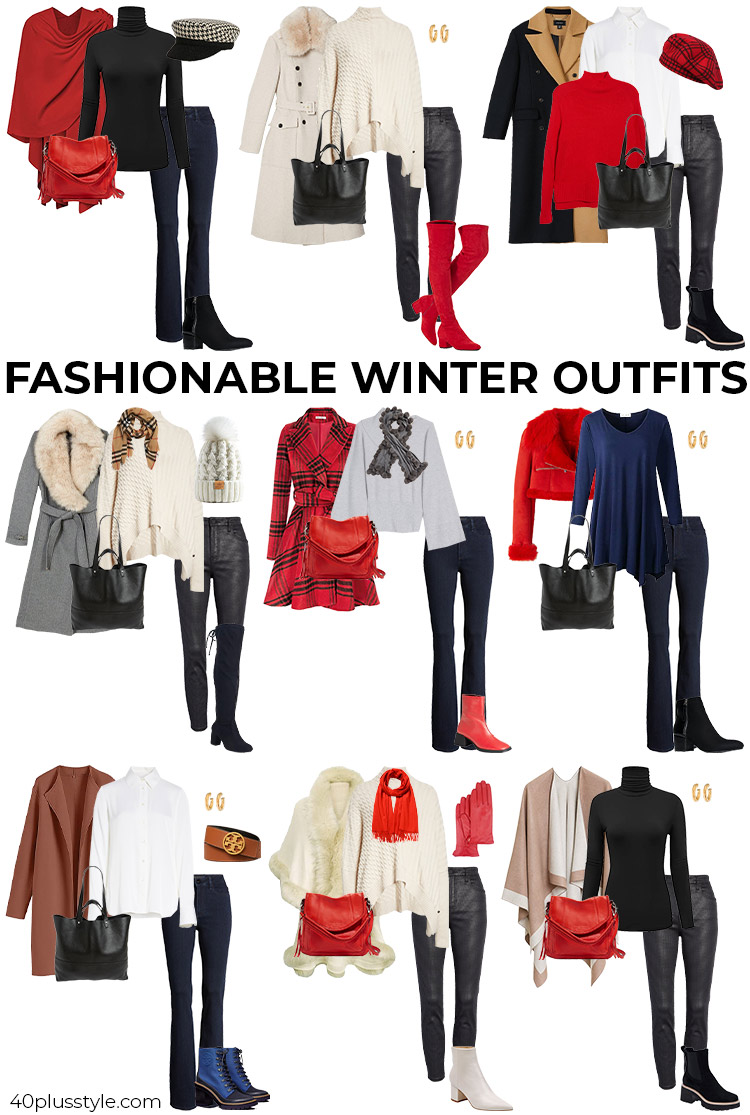 shop some of the items above here:


Previous winter capsules
Below are previously created winter capsules. And, while many of the items are past season, you may still find they give you some ideas if you're shopping your closet.
Which of these winter outfits for women would you wear? How do you stay both stylish and warm during the winter months? What other winter clothes tips do you have?
Continue reading:
Like this article on winter outfits for women? Share it on Pinterest
Feature image by Natalia @odin.stylish.me
The post How to look fashionable in winter – Which of these 11 ways do you use? appeared first on 40+ Style.