Black is a favorite color for many women. It's a color of choice for both day and  evening with good reason – given that black can be slimming and it goes with everything. You'll find ideas in this article on how to wear black over 40, as well as all black outfits that will ensure you look fabulous, day or night.
Why black is popular
So, why are we so drawn to black? Below are a few reasons:
Black is perceived as flattering
Black minimises and downplays which is why it is a popular option to downplay certain parts of your body.
While this is certainly true, it does not work when you wear all over black without paying attention to color, print or texture. Instead it can look aging and dowdy.
Black goes with everything
Yes, black is an easy color to wear and combine. It can also be boring and let you look like everybody else and let you disappear into the background.
Black is certainly a great wardrobe essential but you will need to learn how to wear black the right way.
One idea is to wear your black as a print, as shown below.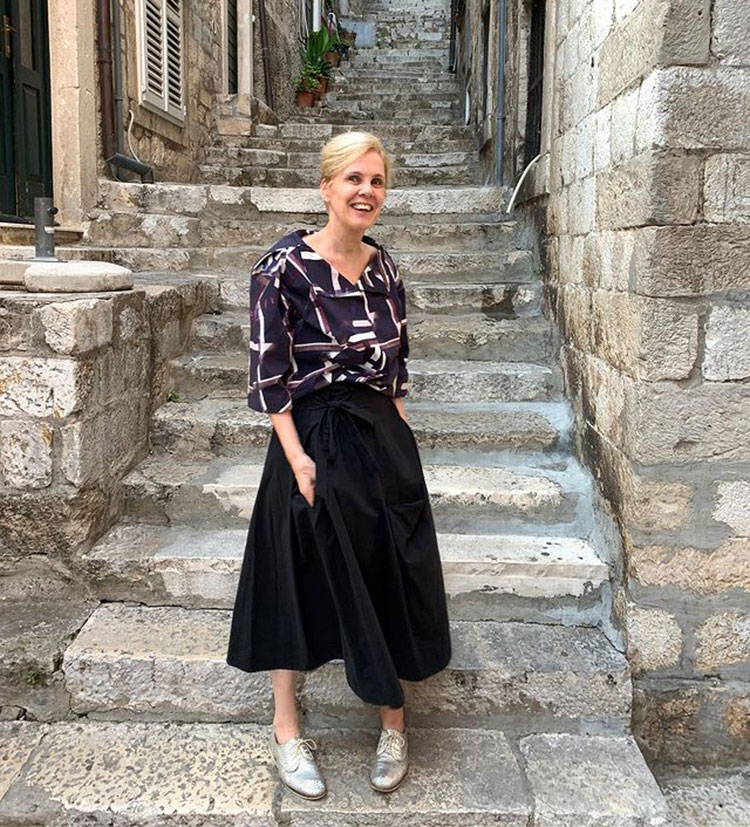 similar blouse (another option here), skirt and silver shoes
Black is always on trend
No matter which other colors are on trend, black is always super stylish.
After all, who could forget Audrey Hepburn in her black Givenchy dress and long black gloves, or black cigarette pants and turtle neck. But don't forget, she had youth on her side and great design to beat!
COS Gathered Midi Dress – COS Belted Midi Shirt Dress – Karen Millen Structured Crepe Forever Pleat Belted Midi Dress – Eliza J Long Sleeve Tuxedo Gown
For more stylish dresses, check out our article on the best black dresses in stores now.
Black is edgy
If you are keen on an 'edgy' look then black is often the preferred choice.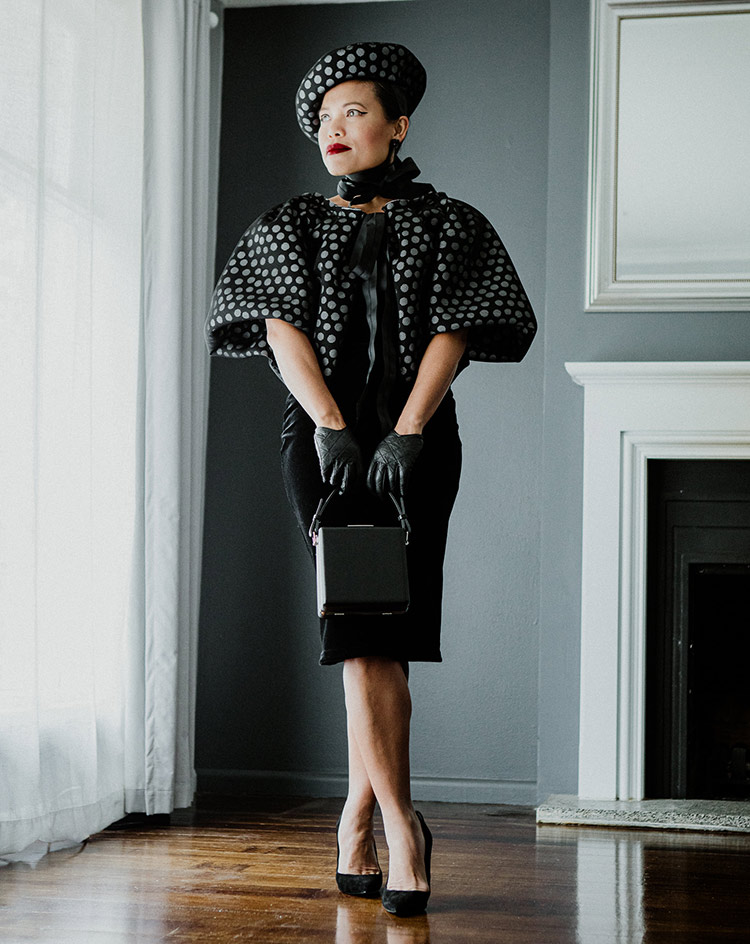 You can achieve any look you want with black. Souri @fabfemme_australia above (read her style interview here) opts for retro style.
Get her look with this similar dress, bolero, pumps, beret, handbag and neck scarf.
Black seems to fit the colder days and temperatures
Black is especially popular when temperatures start to drop and days become shorter.
More and more woman begin to resort to wearing all black and black-dominated looks. While your natural inclination might be to take this route, it's not always the best option for women as they age.
How to wear black over 40?
Even though black has many advantages, it has its disadvantages too. One of the main ones is that black can be rather boring and does nothing for our complexion.
This becomes an even bigger factor as you get older.
As our complexion changes and often becomes paler, black (especially too close to the face) can be jarring, harsh, and wash out your complexion. In other words, the most comfortable option for winter might not be the most flattering.
Although I like wearing black, I seldom wear all-over black any more.
If I do wear all black, I also prefer an all black look when I can keep my legs bare. Bare legs provide a nice contrast for the black and make the look a bit softer.
Let's have a look at how to wear black in stylish and flattering ways
These tips below will help you to wear black in style, whether you like all black outfits for women or you like to add color or print.
1. Wear it in classic cuts and styles
To keep an all black look or piece from appearing too frumpy, select classic cuts and styles that are perfectly tailored.
The perfectly tailored aspect of the piece is key, as anything that is ill fitting will become eve more pronounced if you select a black piece. A common misconception is that black is always sliming. This is not always the case and any piece that is ill fitting can actually become more pronounced in black.
You could choose classic wrap or trench coats, blazers, pencil skirts, tuxedos, tote bags and pumps. All are completely timeless options.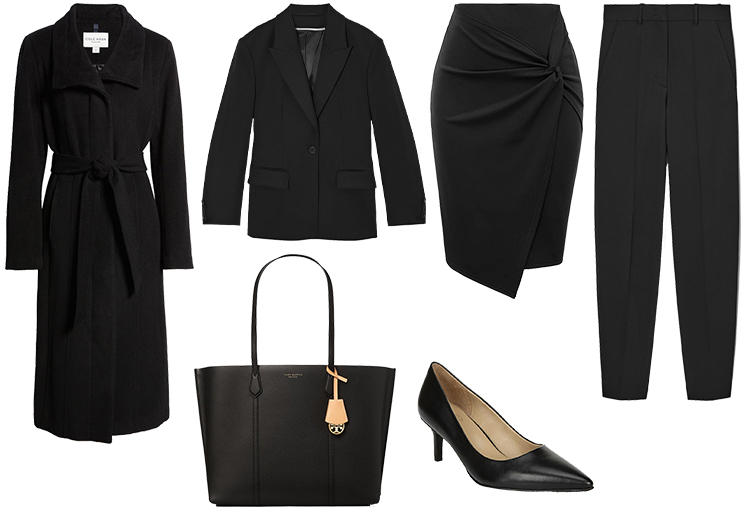 Cole Haan Signature Slick Belted Long Wool Blend Coat – COS Slim-Fi Waisted Blazer – COS Tapered Pants – Kate Kasin Wrap Front Pencil Skirt – Tory Burch Perry Triple Compartment Leather Tote – Naturalizer Everly Pump
If these styles appeal, you will also want to take a look at this capsule wardrobe for the classic style personality.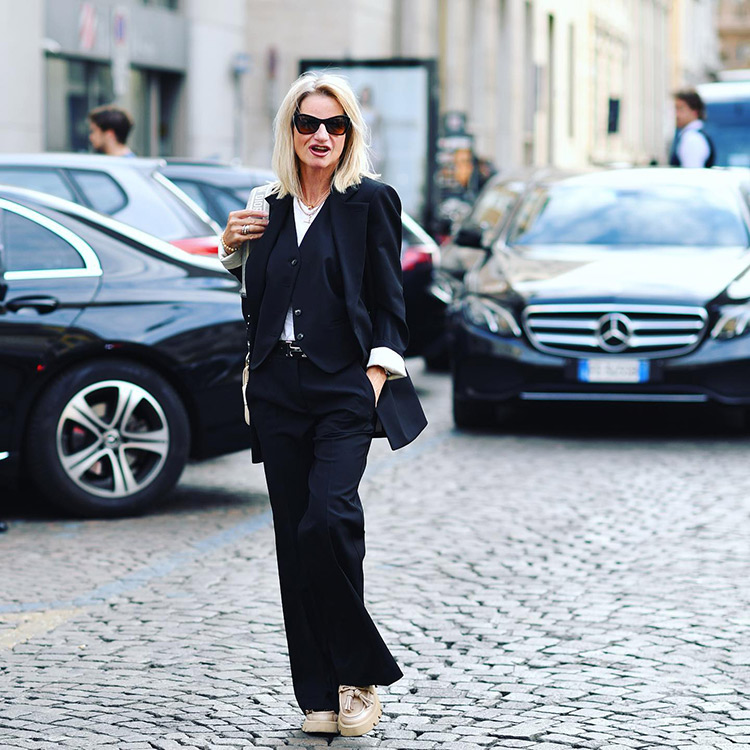 Yvonne @funkyforty above (read her style interview here) wears a black suit, and adds a contemporary flair with her lug sole loafers.
Steal her look with this similar top, vest, blazer, pants, loafers, sunglasses and necklace.
2. Don't wear black too near to your face
If you have a piece with very little texture or embellishments, wearing black too close to your face can actually make you look washed out and do very little to brighten your tone.
A way to get past this challenge is by wearing a piece that has a contrasting color close to your face (such as the dresses below), or selecting a piece such as a bright scarf or necklace to warm the look closer to your face (more on that later).
One great trick to prevent black from being too close to your face is to add a necklace to break the severity and have a kinder color close to your face.
Accessories can give a simple black dress a real wow factor. A matching statement necklace and earrings provide oomph to a summer outfit.
Below, you can see some dresses, tops and coats designed with the black towards the bottom of your outfit.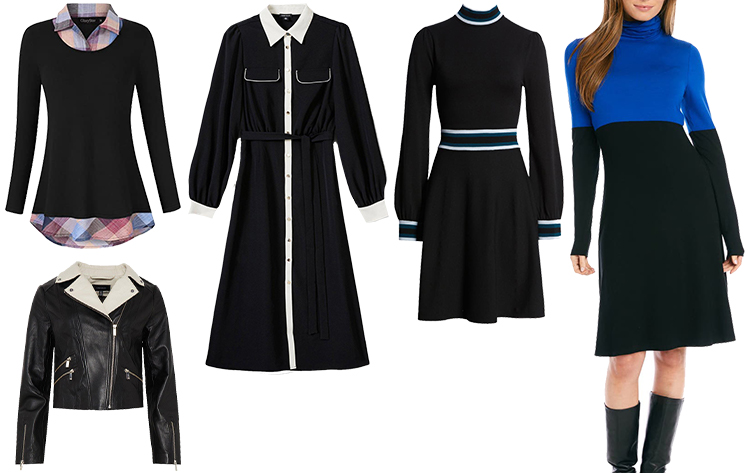 GloryStar Contrast Collared Shirt – Karen Millen Leather Signature Moto Jacket – Karen Millen Contrast Twill Trimmed Midi Shirt Dress – Vince Camuto Mock Neck Long Sleeve Fit & Flare Dress – Karen Kane Colorblock Long Sleeve Jersey Dress
If you like these, you might also want to take a look at this article on how to colorblock.
3. Go with print and patterns
Another way to wear black without giving in to an all black look is by selecting pieces with a black hue dominated pattern.
You still get the edge of a black tone, however, the monotonous black is broken up with a visually engaging print or pattern. You can go with a subtle pinstripe look or bolder prints.
Nandashe Scoop Neck Tunic Top – Romwe Beted Peplum Blouse – DIARRABLU Leer Hera Print Palazzo Pants – DIARRABLU Mailys Hera Print Convertible Dress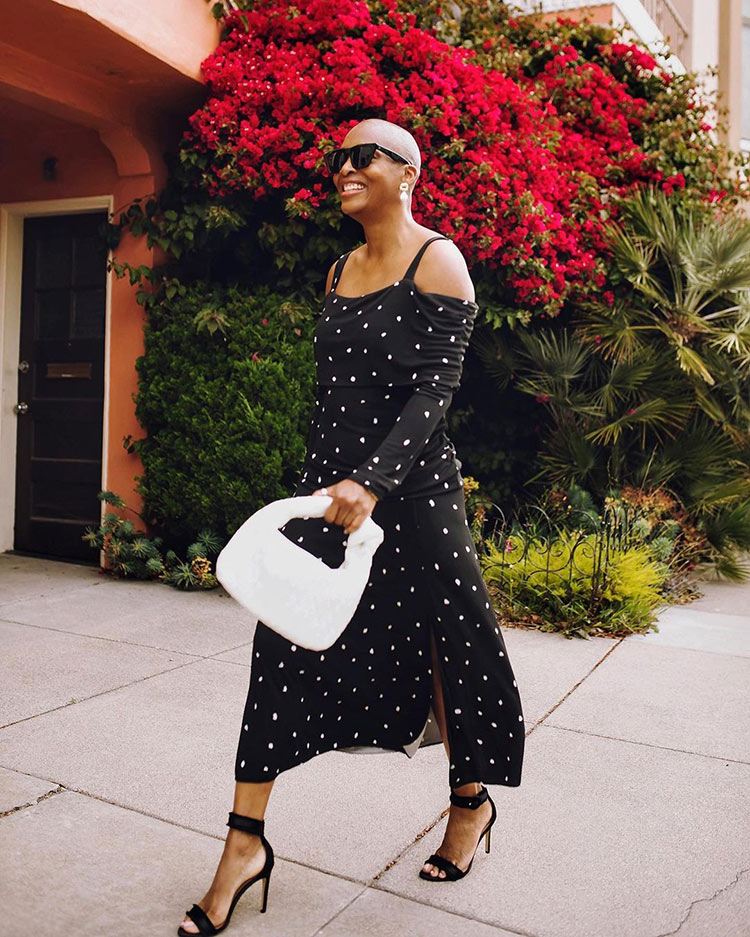 Kim @kimair above (read her style interview here) opts for a beautiful polka dot dress, and keeps her look monochrome with black shoes and a white handbag.
Check out this polka dot dress (more options here and here) that you can wear with these similar heels, handbag, sunglasses and earrings.
4. Play with texture
Texture is another way to add more definition to black pieces.
Whether you opt for an all black look or select a one piece, texture is known for adding a color-like dimension to your look. Pleats are an easy way to achieve this look, as is jacquard. Feathers are also another great option.
You could look out for faux fur, lace and velvet for evening, or quilted jackets and coats for a casual look.
The Drop Natalie V-Neck Lace Trimmed Camisole – COS The Chenille Bolero Jacket – Open Edit Relaxed Velvet Blazer – Karen Millen Leather Multi Stitch Cuff Shearling Lined Coat – COS Short Padded Hooded Cape – Zella Faux Fur Puffer Jacket – COS Faux Shearling Coat
5. Think about your silhouette
Another way to add interest to your black outfits is to add structure to the clothes you choose. For example, you could look out for handkerchief styles and draping, or peplum jackets. You could choose asymmetry, or you could opt for dresses that show off your waist.
LARACE Tunic Top – GRACE KARIN Wrap Lantern Sleeve Peplum Top – Hybrid & Company Notch Lapel Sharp Shoulder Blazer – Halogen Asymmetric Midi Dress – YMDUCH Peplum Pencil Dress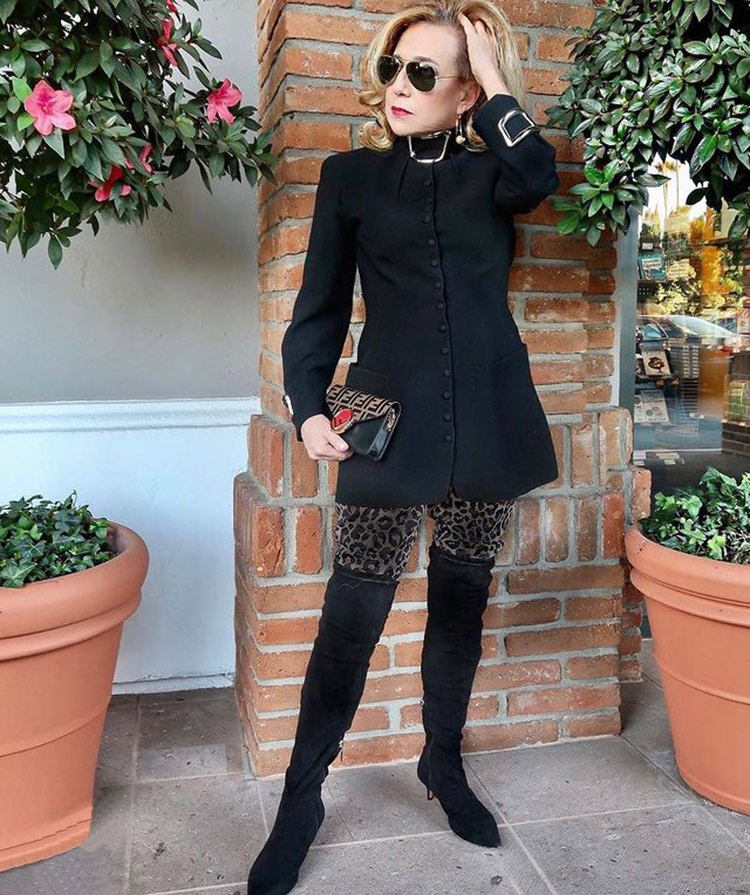 Wendy @fashionoverfifty.wendy above chooses a very structured jacket, and adds interest to her outfit with her contemporary jewelry and the print of her pants.
Recreate her outfit with this similar coat, pants, high boots, clutch and sunglasses.
6. Embellish it
Much like texture, selecting an embellished black piece gives you the permission to go with all black pieces if your heart desires.
Look for pearls and crystals for instant glamour. All you need to add is a clutch bag, and you're good to go.
Karen Millen Feather Embellishment Mesh Detail Sweater – Karen Millen Embellished Ruffle Figure Form Crepe Midi Dress – Karen Millen All Over Baroque Hot Fix Halter Neck Neck Midi Dress – Badgley Mischka Collection Carrie Crystal Embellished Pump – BESTOYARD Pearl Wool Beret
7. Invest in black accessories
If you want to think about creating a stylish all black outfit, then you'll need some stylish black accessories. You can see how wearing a number of accessories will create texture and interest for the black clothes you already have in your closet.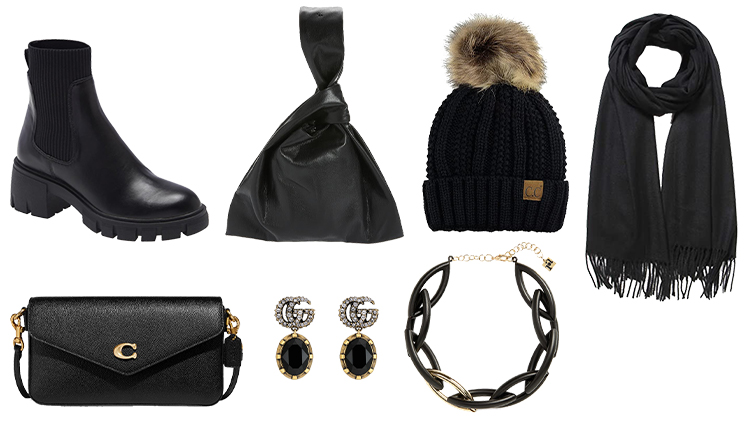 Steve Madden Hayle Platform Chelsea Boot – Nanushka Jen Vegan Leather Top Handle Bag – COACH Wyn Crossgrain Leather Crossbody Bag – Cindy & Wendy Large Pashmina Scarf – Rosantica Carbone Collar Necklace – Gucci GG Running Drop Earrings – C.C Pom Cable Knit Beanie
Tamera @tamerabeardsley (read her style interview here) shows off a beautiful way to wear black, by wearing statement necklaces beside your face.
Check out this similar long sleeve top, pants, booties, backpack, fedora, necklace and sunglasses.
8. Go Sheer
When you add a sheer element to a black piece, it transforms even the most basic pieces into a highly valued wardrobe piece.
The key to wearing this look is to follow the philosophy of keeping it simple and not adding too many other embellishments to your look. You can also add pops of color to come through the sheer fabric for a multi-dimensional look that can also warm the complexion. If you opt for a sheer top, you can wear a black camisole underneath.
Open Edit Sheer Button-Up Shirt – Karen Millen All Over Sequin Jersey Mesh Top – Anne Klein Embroidered Long Sleeve Dress – Anne Klein Solid Ity Knot Front Three-Quarter Sleeve Dress – Karen Millen Hot Fix Diamante Power Mesh Jersey Midi Dress
9. Pair it with denim
One of the most timeless pairings for a very effortless and chic look is the pairing of black and denim.
While many tend to shy away from too much of a black and blue pairing, the composition of black or blue denim with black or blue pieces creates very clean and almost minimalist looks.
Omoone Denim Tie Knot Top – 1822 Denim Re:Denim Recycled Denim Trucker Jacket – PAIGE Manhattan High Waist Bootcut Jeans – Calvin Klein Gayle Pump
Sylvia @sylviacolella above (read her style interview here) wears a very classic outfit of blue jeans and a black sweater and jacket.
Recreate her outfit with this similar sweater, jacket, jeans, booties, shoulder bag, sunglasses and earrings.
10. Go monochromatic
Black and white is always a stylish combination. You could wear an all monochromatic look, or you could add a pop of color. Red would look beautiful.
Karen Millen Cotton Stripe Slash Neck 3/4 Sleeve Top – Karen Millen Mirror Paisley Jacquard Knit Belted Cardigan – Karen Millen Soft Tailored Pleat Panelled Midi Dress – Karen Millen Abstract Viscose Crepe Slip Dress
11. Add pops of color to your all black outfits for women
Choose your favorite color, and use it to brighten up your black. A bright color like red will really make an impact.
J. Reneé Miara Pointed Toe Pump – Cole Haan Viola Skimmer Loafers – COACH Willow Bucket Bag – Off-White Edvard 57mm Cat Eye Sunglasses
Susanne @textelle (read her style interview here) wears black, white and red.
Check out this printed dress (other options here and here) that you can wear with these similar tights, boots, crossbody bag, beret and necklace.
12. add accessories
Adding accessories is key to creating a polished, vibrant, interesting look for any outfit. You can opt for black accessories, as you've already seen, or you could choose colorful options.

Jerollin Multilayer Seed Bead Necklace – ZENZII Flower Dangle Earrings – Nordstrom Eyelash Trim Print Cashmere & Silk Wrap – Lisianthus Belt Buckle Fedora Hat
Your black outfits together in one capsule
Below, you can see some of the black clothes, shoes and accessories featured above together in one capsule. You can see how you can add interest to all black outfits for women, or choose to add a little color to your black outfits.
shop some of the black outfits above here:


More black outfits for women
Want more ideas? Take inspiration from these (mostly) black outfits photographed on the streets of New York by Denton Taylor.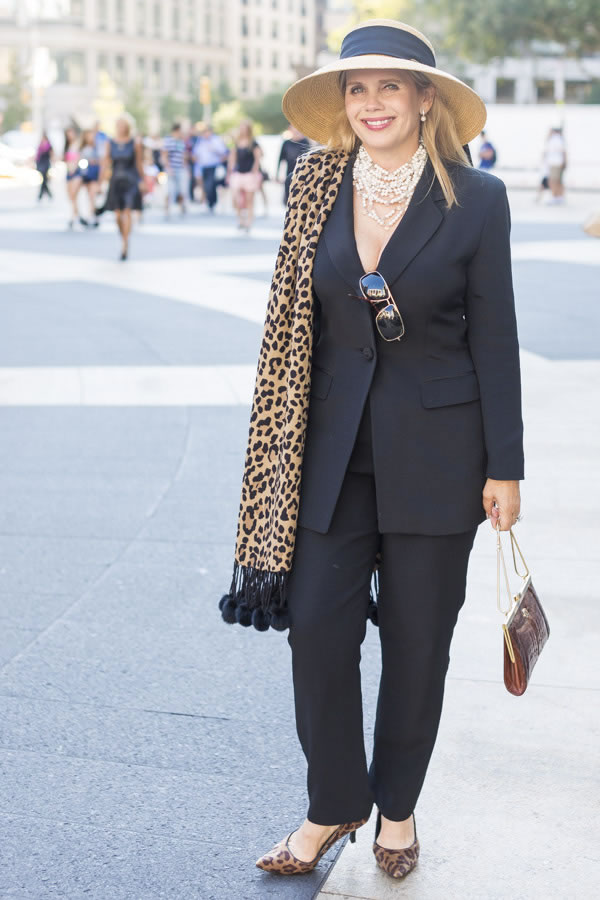 The pears, scarf and hat make the black outfit a lot softer. Also notice all the other accessories.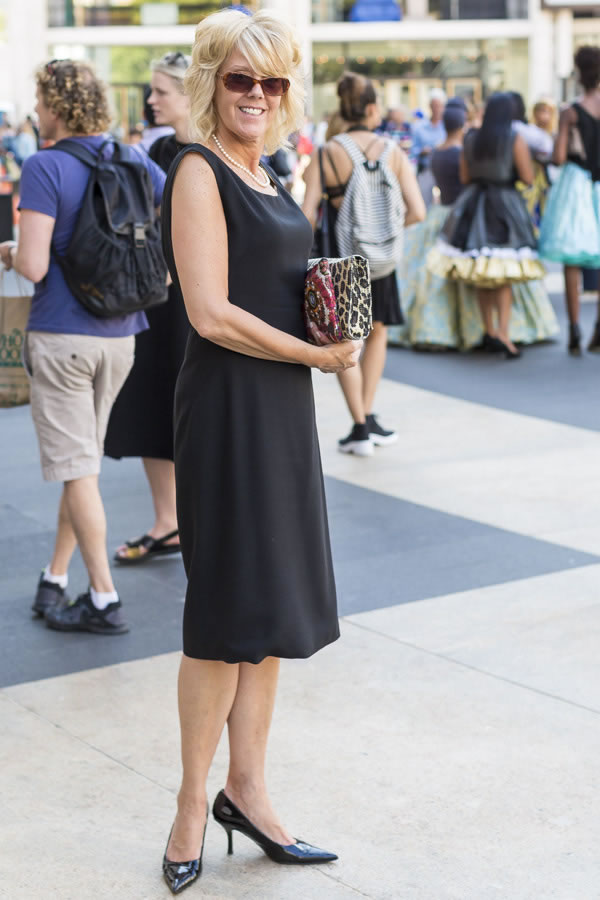 This outfit work because of the large amount of visible skin but at the top and the bottom which makes the all-black outfit less harsh.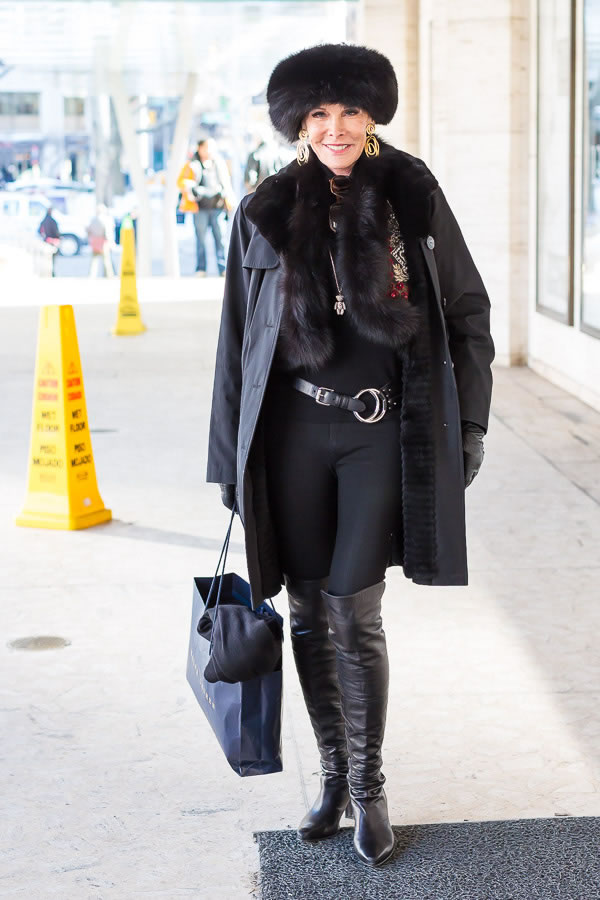 The woman above uses different textures to make her all black outfit more interesting.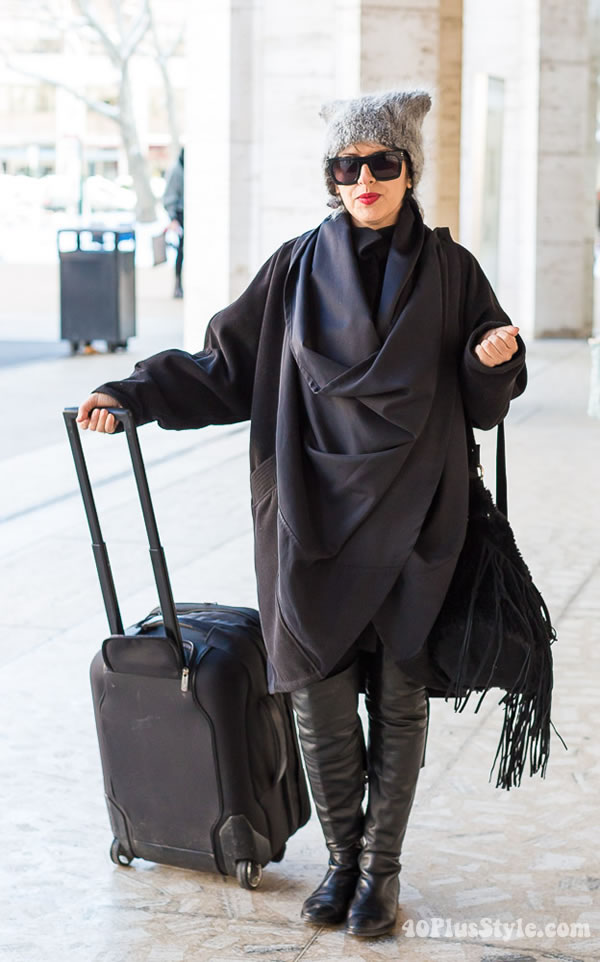 This is an edgier all-black look where a unique design and textures makes for a great black outfit.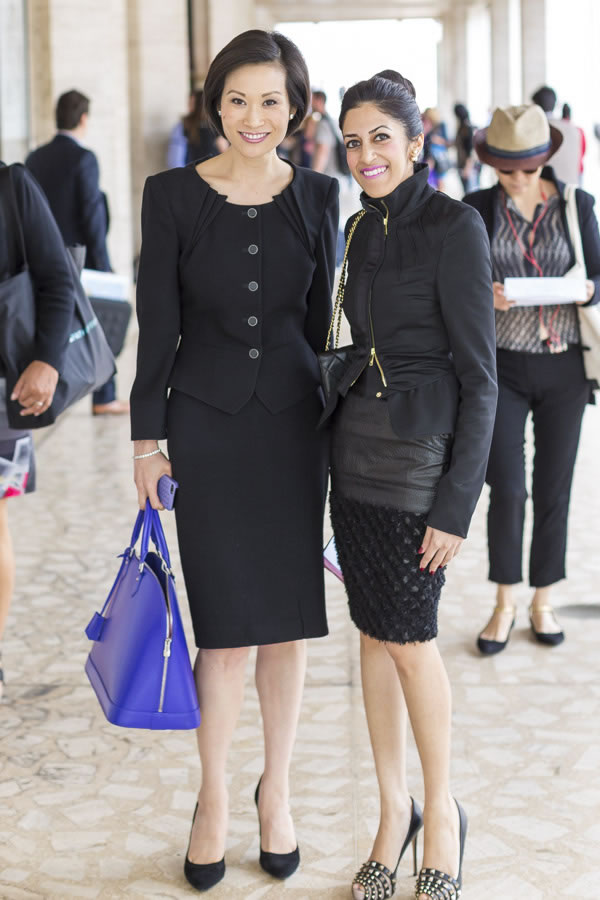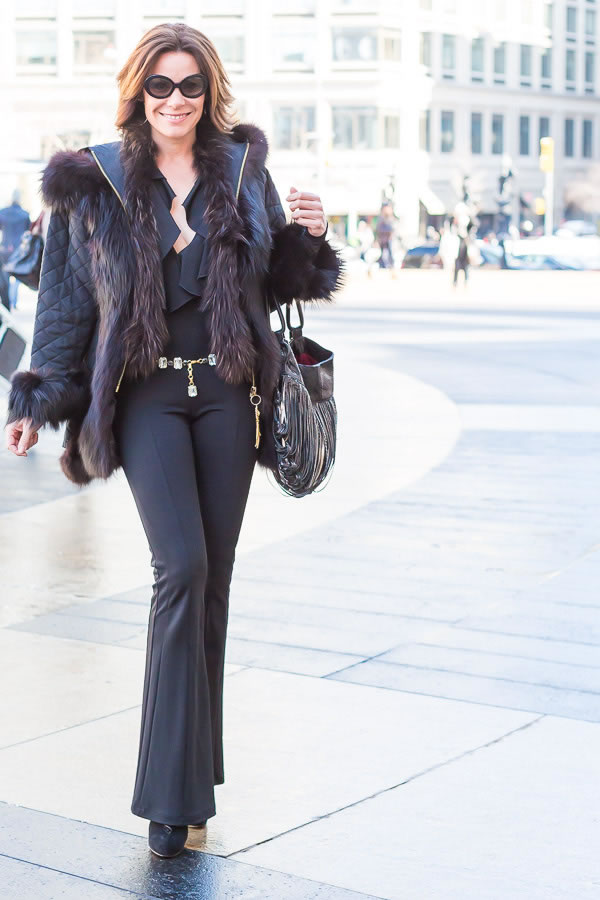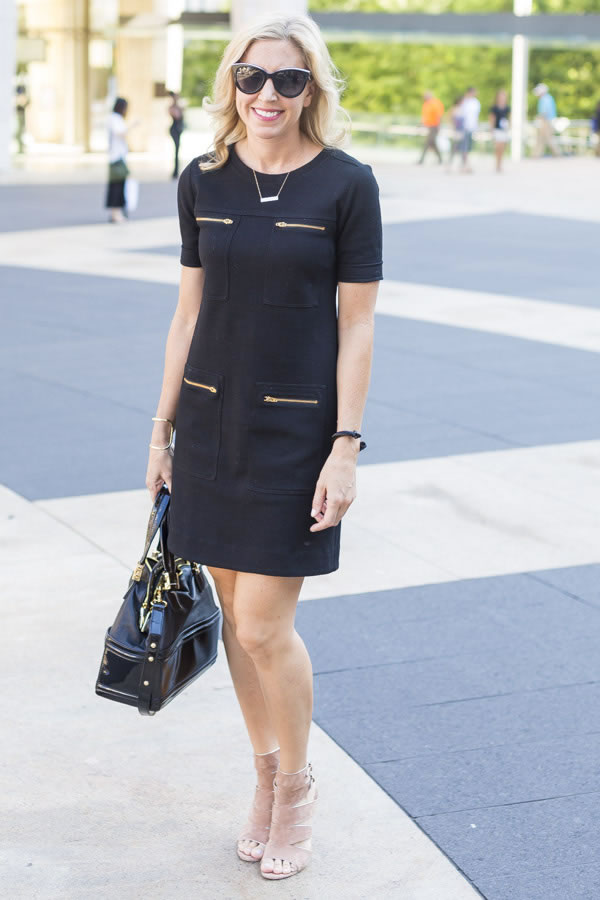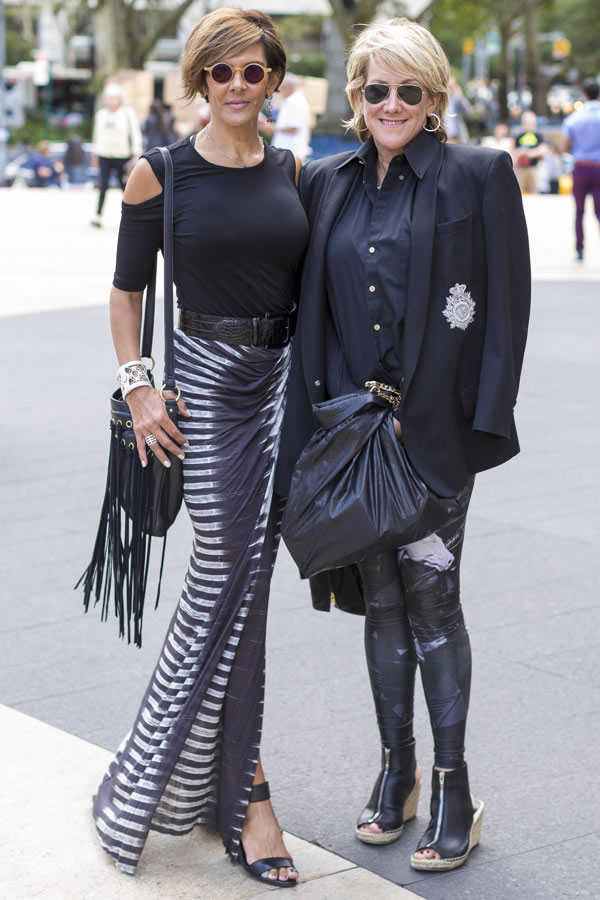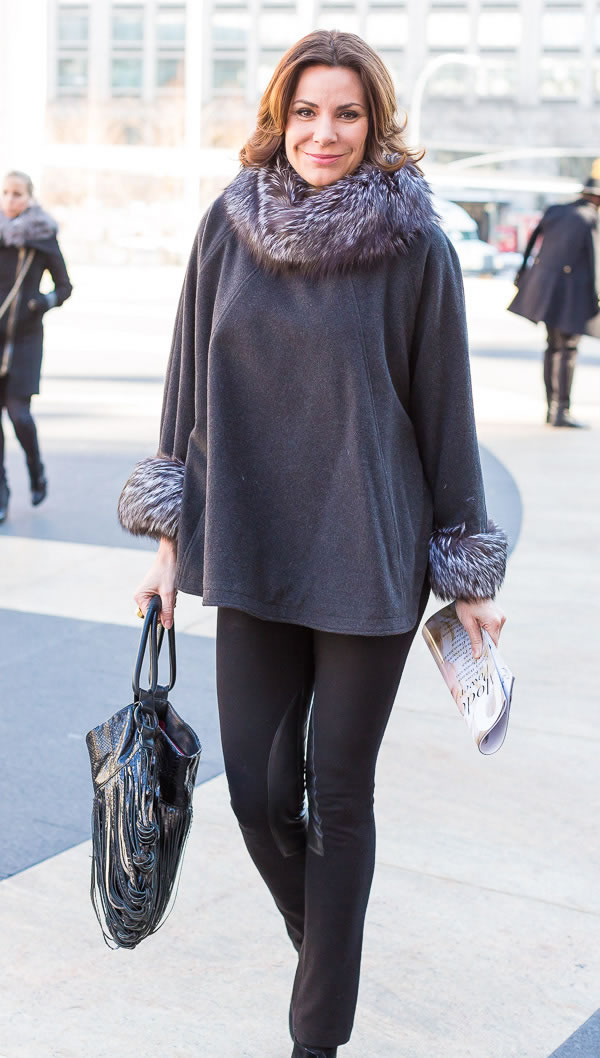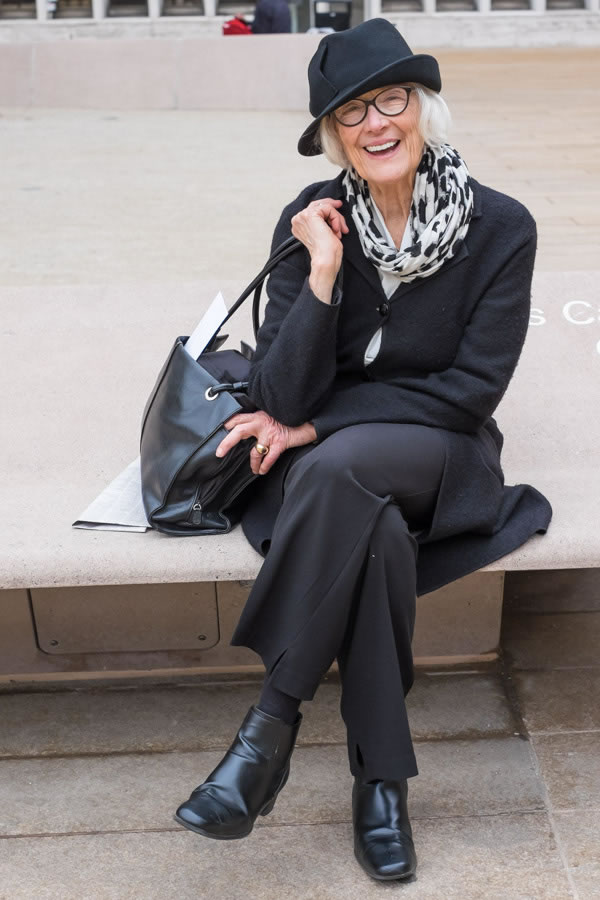 Want to learn how to wear other colors? Check our color guides on:
How do you like to wear black? Which of these black outfits is your favorite?
Continue reading:
Like this article on black outfits for women? Save it on Pinterest!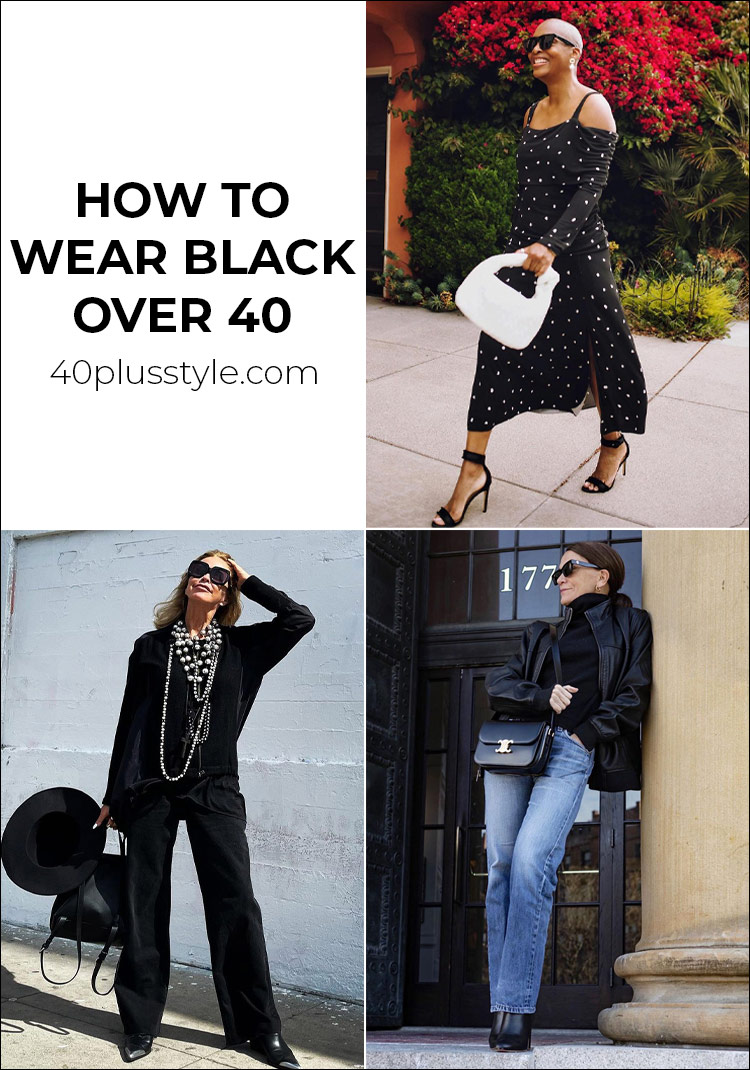 Photos by Denton Taylor
Do you wear all-black outfits? Which of these black outfits and all black outfits for women is your favorite look?
Feature image by Tamera @tamerabeardsley
The post How to wear black over 40 appeared first on 40+ Style.