Three past and present principalsof Pakuranga College gathered have been honoured for their contribution to the school, alongside long-serving former staff member Bryan Dowdle.
The official opening of Pakuranga College's newest facility, Haque Building, named for Bali Haque, principal from 2003-2006, was a celebratory occasion with the McRae Library, Williams Sports Centre and Dowdle Gym also unveiled.
The naming of these buildings carries on a tradition of honouring educators who have led the college, including event guest Pamela Stone who was principal from 1987 – 2003.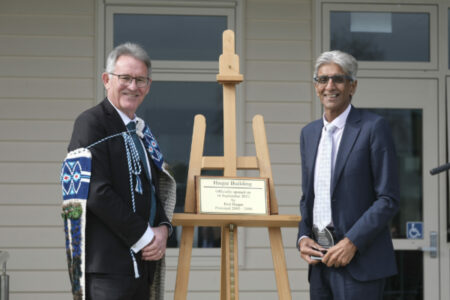 Other principals honoured include foundation principal Kenneth Rae (1960 – 1967), Earnest Rive (1967 – 1977) and Stan Seagar (1978 – 1986).
Haque said of the occasion, "It's lovely, I'm very touched. Pakuranga College was a highlight in my career and a great place to be. The staff are strong and the students are bright and ambitious young people."
The Haque Building, partly funded by the Ministry of Education, is a reference design with the building template available for other schools to use.
The space is designed to be flexible so that it suits different learning needs and subjects as schools require.
Current principal Michael Williams says, "The Haque Building is another key statement piece in our long-term development plan which aims to open up the college grounds by removing prefabs and creating modern learning spaces for students."
Williams has been at the helm of Pakuranga College for 13 years and his contribution is recognised in the naming of the Williams Sports Centre.
Bryan Dowdle, a staff member for 30 years, said the honour was a surprise. "During my time at the college I oversaw many changes as a deputy principal, but it is a surprise to see my name on a building."
The post Pakuranga educators honoured appeared first on Times.