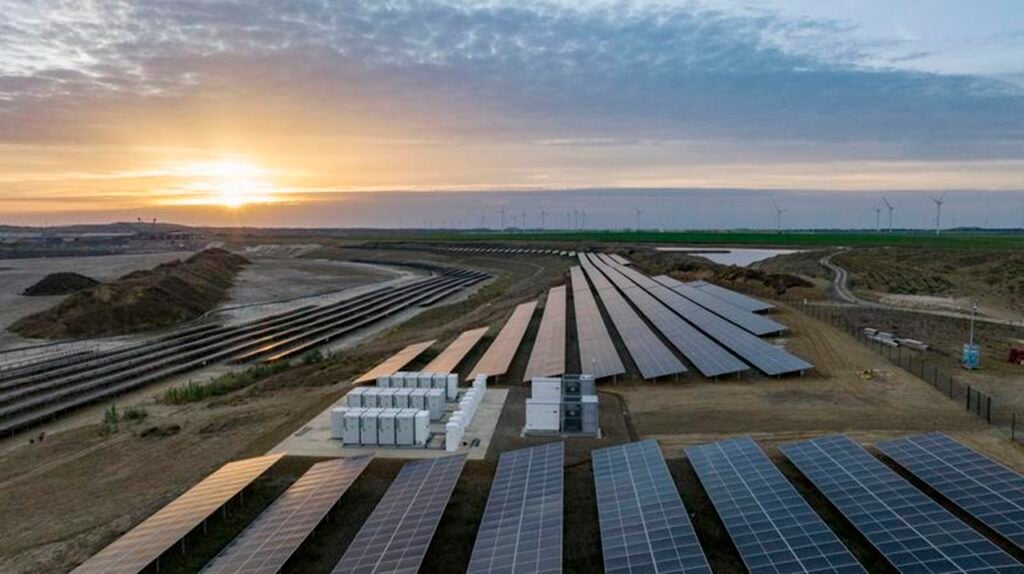 RWE commissions solar-plus-storage system at lignite mine in NRW
Multinational energy firm RWE has commissioned a solar-plus-storage project at its Inden lignite mine in the district of Düren, North Rhine-Westphalia (NRW), Germany.
The bifacial solar PV array has an output of 14.4MW while the attached battery energy storage system (BESS) will provide 9.6MWh of energy storage capacity, and around 4.8MW of power.
The BESS will be used to optimise the solar PV's discharge into the electricity grid. The project has come online several months later than initially expected.
RWE is building two similar units in another nearby lignite mine, Garzweiler, as reported by Energy-Storage.news recently, which will total 10.6MW/21.1MWh of energy storage.
It is aiming to deploy a minimum of 500MW in the Rhenish lignite mining district, an area with three large lignite mines it operates in NRW, by 2030.
Grid-scale battery storage deployments in Germany last year most likely eclipsed 200MW in total, a record for the market and the second-highest deployment figure in Europe after the UK, which deployed around 760MW (figure from Solar Media Market Research's UK Battery Storage Project Database Report).
Rabobank invests in Dutch system integrator GIGA Storage
Rabobank has taken a minority stake in GIGA Storage, a developer that recently commissioned the largest BESS project in the Netherlands to-date, provided by Wärtsilä.
Rabobank said the investment will allow GIGA Storage to expand its network of large-scale energy storage projects.
The company's two deployments so far total 57MWh of energy storage but the firm claims it has developed a project pipeline of 12,500MWh in both Belgium and the Netherlands, with 420MWh to be built in the near-term.
"GIGA Storage is a pioneer in the large-scale energy storage industry in the Benelux. We are proud to further shape our partnership with GIGA as an investor. This allows them to substantially grow both their battery projects and the self-developed IT platform in order to facilitate the further integration of renewable energy into the Benelux electricity grid," said Francis Quint, global head of Rabo Investments.
Read more Energy-Storage.news coverage of the energy storage market in the Netherlands here. As we reported, the largest system being built was recently announced by the BESS division of Rolls-Royce.
Swiss Canton looks to energy storage
AEW Energie, the utility serving the Swiss Canton of Aargau, is adding a 5.5MW/10MWh BESS unit to its grid to help shore up energy security and decarbonise.
Hitachi Energy has been contracted to provide the system although its press release was unclear about whether the system has only been ordered or brought online already. A spokesperson said it was most likely the latter and Energy-Storage.news will update this article when confirmation has been received.
The BESS order includes Hitachi Energy's intelligent automation software, the e-mesh portfolio which provides advanced analytics, software, and digital capabilities.
AEW will use the BESS as a learning platform to enhance grid stability and add distributed energy resources (DERs) to its operations. Looking ahead, it also wants to use energy storage to optimise EV charging, introduce virtual power plants (VPPs) and trade energy.
René Soland, head of Business Unit Grids AEW Energie AG, said: "What is exciting is that the BESS can give us new ways to orchestrate, optimise, and manage our existing infrastructure, as well as a path to the future, especially with more renewable power and the expected increase in electrification across many industries."
Switzerland has been relatively quiet in the energy storage news world, but last year it did commission a 20GWh pumped hydro plant in the Valais mountains, one of the largest systems brought online anywhere in the world. See all other coverage of the Swiss market here.
Energy-Storage.news' publisher Solar Media will host the eighth annual Energy Storage Summit EU in London, 22-23 February 2023. This year it is moving to a larger venue, bringing together leading investors, policymakers, developers, utilities, energy buyers and service providers from across Europe all in one place. Visit the official site for more info.