The Minnesota Vikings played their final game of the season on Sunday in the wild-card round. By losing to the Giants, the purple team has been eliminated from the postseason and will transition into the off-season. The first move teams make after their season is to sign some players to future contracts.
Those contracts are regular NFL contracts, including minimum salary, cap charges, signing bonuses, and other normal contract terms. However, the contracts don't take effect until the new league year starts. This year that will begin on Wednesday, March 15th, at 3 pm CT.
In the meantime, the signed players will be stashed on the reserves/futures list and can't be signed by a different team.
Usually, teams sign parts of their practice squad, especially players they think could be valuable in the next season. It's the first step teams take to get their roster to 90 players. Only players are eligible that weren't on an active roster after Week 18. That includes unrestricted free agents and players on the practice squad.
Vikings Sign 6 Players to Future Contracts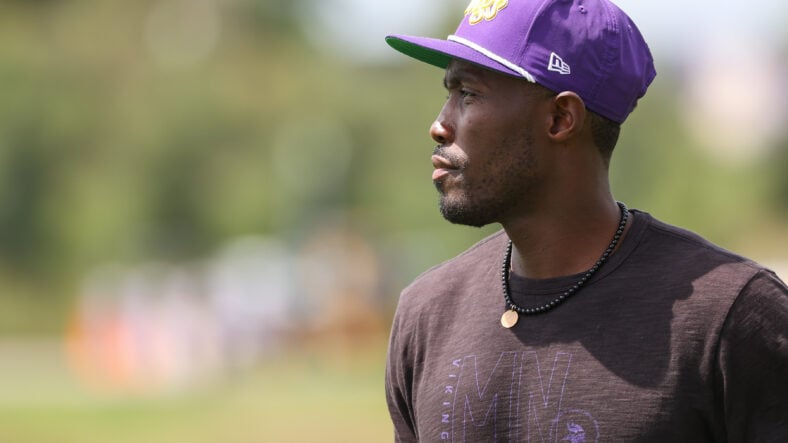 General manager Kwesi Adofo-Mensah made his first moves of the offseason. The six players he signed are:
WR Trishton Jackson
WR Blake Proehl
TE Nick Muse
C Josh Sokol
OLB Benton Whitley
CB Tay Gowan
Trishton Jackson was one of the stars of last year's training camp. He made some highlight plays and was one of the favorite targets of various quarterbacks. However, he did not make the 53-man roster. He'll get a new chance next season. Wide receiver Jalen Reagor will be an unrestricted free agent, and veteran Adam Thielen is not getting any younger.
The same can be said about Blake Proehl. He starred in training camp in 2021 but tore his ACL and missed the 2021 season and the start of 2022. Proehl spent the second half of the season on the practice squad. It will be interesting to see if he can return to his old self and earn a roster spot next year. The Vikings certainly like him. That's why they haven't given up on him.
Tight end Nick Muse was the final pick of Adofo-Mensah's first draft class. He started the season on the practice squad but was promoted to the roster for a while because multiple tight ends missed time with injuries. Muse helped the team on special teams before he was waived and re-signed to the practice squad once his teammates were back to full health. After his new contract, all of Adofo-Mensah's draft picks are still on the roster. Irv Smith will most likely depart in free agency, giving Muse a chance to win a roster spot.
Josh Sokol was signed as an undrafted rookie and made the practice squad. The Vikings didn't even promote him to the active roster when starter Garrett Bradbury and backup Austin Schlottmann were hurt in meaningless games, so it's unlikely he will make noise next season. However, both Bradbury and Schlottmann are unrestricted free agents, which could open the door for Sokol.
Benton Whitley is another undrafted rookie. He initially signed with the Rams but failed to make the roster. The Chiefs then signed him off the Rams' practice squad, waived him a few weeks later, and placed him on their practice squad, where the Vikings signed him. They did the same thing as the Chiefs, waiving him after a few weeks to sign him to the practice squad. Interestingly, multiple teams apparently liked him enough to sign him. He did not appear in an NFL game this season.
Tay Gowan was a 2021 sixth-rounder. He played in five NFL games in two seasons, including three for the Vikings in 2022. All of his 15 snaps were as a special teamer. The cornerback position is a huge question mark in Minnesota. Patrick Peterson and Duke Shelley are free agents.
---
Janik Eckardt is a football fan who likes numbers and stats. The Vikings became his favorite team despite their quarterback at the time, Christian Ponder. He is a walking soccer encyclopedia, loves watching sitcoms, and Classic rock is his music genre of choice. Follow him on Twitter if you like the Vikings: @JanikEckardt
The post Vikings Sign 6 Players to Future Contracts appeared first on Vikings Territory.